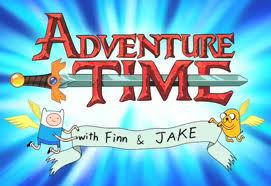 The Adventure Time Sword comes across the screen in every episode. In some episodes, it appears more than once but with a different name like Lady Time and Party Time. It is not a sword that Finn owns. The sword appears after Finn & Jake fist-bump each other in the opening theme song of the TV series Adventure Time.
Trivia
Even though this is seen in every episode, it is still haven't been used by any character in the show
Gallery
Ad blocker interference detected!
Wikia is a free-to-use site that makes money from advertising. We have a modified experience for viewers using ad blockers

Wikia is not accessible if you've made further modifications. Remove the custom ad blocker rule(s) and the page will load as expected.