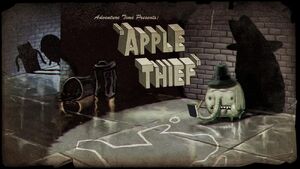 Apple Thief is the 63rd episode of Adventure Time and 11th episode of Season 3. It first aired on October 3rd, 2011.
Synopsis
After Tree Trunks's apples are stolen, Finn, Jake, and Tree Trunks must find them at the bad part of the Candy Kingdom.
Trivia
This is the episode that reveals that Jake used to steal.
Ad blocker interference detected!
Wikia is a free-to-use site that makes money from advertising. We have a modified experience for viewers using ad blockers

Wikia is not accessible if you've made further modifications. Remove the custom ad blocker rule(s) and the page will load as expected.