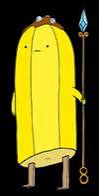 Banana Guards
act as guards and knights for the
Candy Kingdom
. In the episode "
Princess Cookie
," they are barricades for
Princess Bubblegum
. Banana Guards are usually seen as cameos in many other episodes as well. They are in the episodes like "
Apple Thief
," "
Wizard Battle
," and "
Too Young
." It is shown that there are many of them, and they act as the Royal Guard, as shown in "
King Worm
." It is shown that they watch the entire kingdom over surveilance cameras, as shown in "
You Made Me!
"
Gallery
Ad blocker interference detected!
Wikia is a free-to-use site that makes money from advertising. We have a modified experience for viewers using ad blockers

Wikia is not accessible if you've made further modifications. Remove the custom ad blocker rule(s) and the page will load as expected.