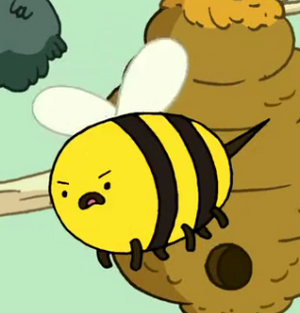 The Bee is seen in the episode "Evicted!," as well as in the end credits of Adventure Time. In "Evicted!," Finn and Jake disturbed it's nest because Finn had put his foot inside it's hive. It got angry and then puked honey on both Finn and Jake. Also in "Evicted!," the Bee can be seen in Mr. Cupcake's icing, during the party that Finn and Jake hold. It appears in his icing for a total of two scenes.
Gallery
Ad blocker interference detected!
Wikia is a free-to-use site that makes money from advertising. We have a modified experience for viewers using ad blockers

Wikia is not accessible if you've made further modifications. Remove the custom ad blocker rule(s) and the page will load as expected.