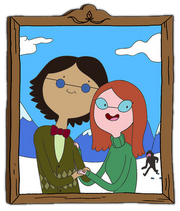 Betty was Ice King's (at the time Simon Petrikov) Fiancee, she was going to marry him, but when Ice King placed the magic crown, he did horrible things, which made her leave him. It is unknown whether she died or somehow survived the Mushroom War. She appeared in a video in "Holly Jolly Secrets Part 2. She  is a human.
Appearance
She has red hair and has glasses and has a green shirt. Her skin pink like.
Trivia
She looks a lot like Dr. Princess, but Pendleton Ward explains that there is no connection between the two.
Ad blocker interference detected!
Wikia is a free-to-use site that makes money from advertising. We have a modified experience for viewers using ad blockers

Wikia is not accessible if you've made further modifications. Remove the custom ad blocker rule(s) and the page will load as expected.