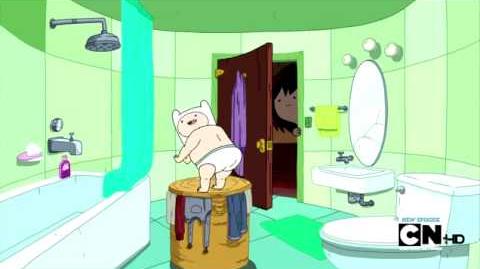 Baby Finn sings the "Buff Baby Song", seen in a bathroom looking at himself in a mirror singing about beating up bad guys, when Finn sends Marceline into his memory to see Marceline's lost memory in "Memory of a Memory."
Lyrics
I'm a buff baby that can dance like a man,
I can shake-ah my fanny, I can shake-ah my can!
I'm a tough tootin' baby, I can push all yo buns,
push all yo buns, I can push all yo buns!
If you're an evil witch, I will punch you for fun!
Trivia
In the episode "Jake Suit," Jake made a revised edition of this song to win his bet.
Ad blocker interference detected!
Wikia is a free-to-use site that makes money from advertising. We have a modified experience for viewers using ad blockers

Wikia is not accessible if you've made further modifications. Remove the custom ad blocker rule(s) and the page will load as expected.