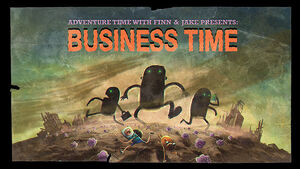 Business Time is the 8th episode in Season 1 of Adventure Time. It first aired on April 26th, 2010.
Synopsis
While unfreezing icebergs, Finn and Jake find four Business Men who are willing to serve them. But the Business Men might have some alternative ideas on being a hero.
Appearances
Main Characters
Minor Characters
Battle Cubes
Fuzzy Friends
Swamp Giant
Ad blocker interference detected!
Wikia is a free-to-use site that makes money from advertising. We have a modified experience for viewers using ad blockers

Wikia is not accessible if you've made further modifications. Remove the custom ad blocker rule(s) and the page will load as expected.