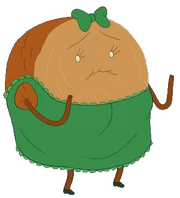 Cinnamon Bunnette is the gender swapped version of Cinnamon Bun who makes a minor appearance in "Fionna and Cake." She is one of the guests at the Biennial Gumball Ball asking Prince Gumball, in a quiet voice, "I wonder if you designed it yourself." but then throughout the rest of her apperance she just kept on going like "Blabloogrableegrooblabgruh." like she couldnt even speak english.
Appearance
She looks like Cinnamon Bun but the only difference is that she has green shoes, a dress and a bow, she has a larger bosom and white eyes, as opposed to Cinnamon Bun's usual black eyes.
Gallery
Ad blocker interference detected!
Wikia is a free-to-use site that makes money from advertising. We have a modified experience for viewers using ad blockers

Wikia is not accessible if you've made further modifications. Remove the custom ad blocker rule(s) and the page will load as expected.