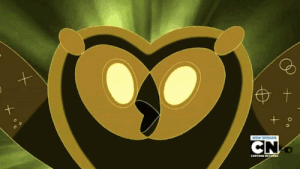 The
Cosmic Owl
is a character of Adventure Time that first appeared in the episode "
Prisoners of Love
," where
Ice King
had a vision of it. It was seen in the episode "
The New Frontier
," where
Jake
had a dream of it. This is called a "croak dream." It is possible that it is of some religous value in
Ooo
, just like how
Grob Gob Glob Grod
is most likely Ooo's 'god.' In "Jake the Human," it is revealed that the Cosmic Owl has a friend named Prismo. It is mostly seen in the croak dreams.
Appearance
The Cosmic Owl is a large owl that has a golden color all over its body. It has large eyes and large wings. It has a single colored eye.
Ad blocker interference detected!
Wikia is a free-to-use site that makes money from advertising. We have a modified experience for viewers using ad blockers

Wikia is not accessible if you've made further modifications. Remove the custom ad blocker rule(s) and the page will load as expected.