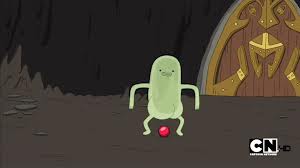 Drop Ball is an "extremely addictive, high intensity game designed for people everywhere." The Drop Ball Ghost introduces Finn and Jake to the game in the episode "Blood Under the Skin." Finn must play it in order to gain access to the holding room for the Armor of Zeldron. The Drop Ball Ghost's high score is 6. The origins of the game are unknown, but its claim of being addictive seems to be true as the Drop Ball Ghost had spent many years trapped by his addiction.
Ad blocker interference detected!
Wikia is a free-to-use site that makes money from advertising. We have a modified experience for viewers using ad blockers

Wikia is not accessible if you've made further modifications. Remove the custom ad blocker rule(s) and the page will load as expected.