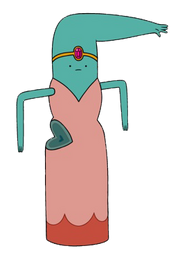 Elbow Princess
first appears in "
Princess Monster Wife
." Her head appears to be an arm, which is why she has the name. She is one of the princesses to have a missing body part in the episode, which was a small part of her right hip. It is still unsure if Elbow Princess is a "Freak Creature," or the ruler of the Freak Creatures.
Appearance
She has a right arm sticking out of her head that bends to her left side. Her skin is a greyish blue-green and she doesn't have a neck. She has a golden band around her head just before her arm that has a diamond-shaped ruby in it, and that is probably her crown. Her dress is a floor length pink V-neck that has a red ochre-colored design around the bottom. She has a love heart shaped chunk taken out of her right hip.
Trivia
Gallery
Ad blocker interference detected!
Wikia is a free-to-use site that makes money from advertising. We have a modified experience for viewers using ad blockers

Wikia is not accessible if you've made further modifications. Remove the custom ad blocker rule(s) and the page will load as expected.