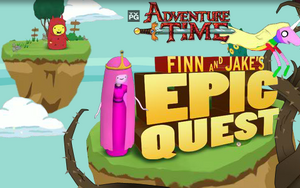 Finn and Jake's Epic Quest is a video game on Cartoon Network.com.
Plot
BMO makes a video game but Finn and Jake are too busy adventuring to play it. So BMO sucks both them into the game while they're sleeping and now Finn and Jake must get back.
Trivia
According to the game's title card, the game itself is rated TV PG.
Ad blocker interference detected!
Wikia is a free-to-use site that makes money from advertising. We have a modified experience for viewers using ad blockers

Wikia is not accessible if you've made further modifications. Remove the custom ad blocker rule(s) and the page will load as expected.