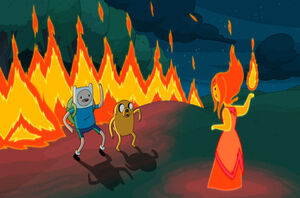 Fire Powers
have been seen throughout AT. Notable members include:
Flambo
Finn (once only)
Fire Wolves
Fire Powers have been used in different ways for example:
Scorcher has made a sword like Fire Power to defeat Blastronaut and made giant fire balls that he threw at Finn and Jake.
Flambo used his Fire Powers in a odd magical way to help Jake so he wouldn't die going into the Fire Kingdom. He does this by spitting a flame on his forehead.
Flame Princess has used her powers very destructively and it is unknown if she can fully control her powers. She has been seen using them out of rage in a very violent way. It is shown to prevent her power one must use a source of water, she can also turn other people into creatures that are the same as "Flambo."
The Lich's Fire Power is a green color unlike the rest, they are summoned from his hands, like most of the other characters.
Finn has used a blue Fire Power before which he obtained from a cursed ring known as "Power Ring."
The Fire Wolves flames pop at random around their body. These bursts of flames that pop up do burn things on impact.
Gallery
Ad blocker interference detected!
Wikia is a free-to-use site that makes money from advertising. We have a modified experience for viewers using ad blockers

Wikia is not accessible if you've made further modifications. Remove the custom ad blocker rule(s) and the page will load as expected.