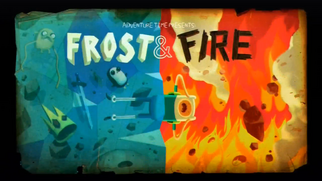 Frost and Fire is the 30th Episode of Season 5. It is the 134th episode overall.
Synopsis
A fight between Ice King and Flame Princess causes Finn to dream. Finn becomes obsessed with the dream, and with finding out how will it end, so he manipulates Ice King and Flame Princess into fighting again.
Major Characters
Finn
Flame Princess
Ice King
Minor Characters
Trivia
Finn and Flame Princess broke up in this episode.
Gallery
Ad blocker interference detected!
Wikia is a free-to-use site that makes money from advertising. We have a modified experience for viewers using ad blockers

Wikia is not accessible if you've made further modifications. Remove the custom ad blocker rule(s) and the page will load as expected.