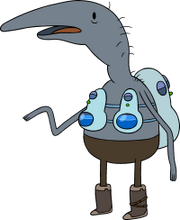 Grimby is one of the characters that Finn and Jake accused of being a tart burglar, in the episode "The Other Tarts." His other companions are JJ and Taddle.
Appearance
He is a blue character that wears dark brown pants and light brown boots, with rope tied around his left boot. He seems to have some sort of water generator thing tied around him.
Quotes
Hush. *Blows* I ain't gon' burn it. - "The Other Tarts"
Ad blocker interference detected!
Wikia is a free-to-use site that makes money from advertising. We have a modified experience for viewers using ad blockers

Wikia is not accessible if you've made further modifications. Remove the custom ad blocker rule(s) and the page will load as expected.