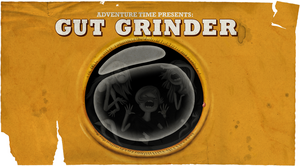 Gut Grinder is the 26th episode of Adventure Time and the Season Finale of Season 1. It first aired on September 27, 2010.
Synopsis
Finn and Jake find out about a monster called The Gut Grinder. But Jake begins to think he is "The Gut Grinder" because all of its traces match Jake's appearance. This leads to Jake really thinking he is a monster, and disaster happens.
Trivia
It is shown that Finn is bad at playing Viola.
Gallery
Ad blocker interference detected!
Wikia is a free-to-use site that makes money from advertising. We have a modified experience for viewers using ad blockers

Wikia is not accessible if you've made further modifications. Remove the custom ad blocker rule(s) and the page will load as expected.