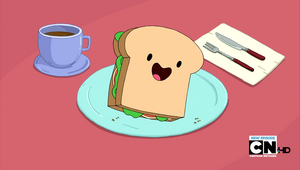 The Ham Sandwich made it's appearance in the episode "Another Way" where Finn had poured the cyclops tears on it and it had become living.
Trivia
Finn had oddly used the cyclops tears on it even though he had not done anything to it before.
Ad blocker interference detected!
Wikia is a free-to-use site that makes money from advertising. We have a modified experience for viewers using ad blockers

Wikia is not accessible if you've made further modifications. Remove the custom ad blocker rule(s) and the page will load as expected.