Joshua is married to Margaret and is a father to Jake and Jermaine. He and Margaret adopted Finn in the episode, "Memories of Boom Boom Mountain." It was mentioned in "Dad's Dungeon" that he died when his spirit sparkles took Finn and Jake to the holo-messager. Joshua is the one who created the Demon Blood Sword for Finn. Joshua teaches Jake to be tough, but Jake thinks it is better to just stay calm
Appearance
He looks like Jake, only bigger, and he wears a gray fedora with a darker gray ribbon on it.
Quotes
Do it for Pappy! - "Dad's Dungeon"
Jake, I brought someone with me this time. - "Crystals Have Power"
You just kissed a boom-boom baby. So don't expect any sugar from me until we wash your dirty, dirty, face. - "Memories of Boom Boom Mountain"
Butt's are for pooping! "Dad's Dungeon"
Videos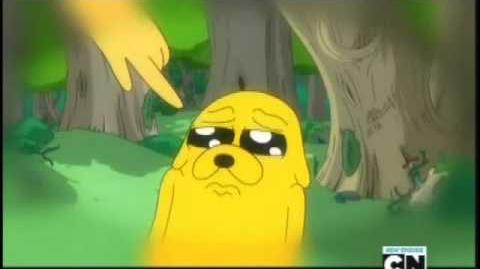 Gallery
Ad blocker interference detected!
Wikia is a free-to-use site that makes money from advertising. We have a modified experience for viewers using ad blockers

Wikia is not accessible if you've made further modifications. Remove the custom ad blocker rule(s) and the page will load as expected.