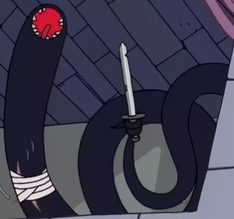 The Labyrinth Worm had a very small appearance in the episode "The Limit." He was one of the random enemies in the labyrinth that Finn, Jake and the Hot Dog Knights never encountered.
Appearance
It has a very long body that is a dark grey/blue color. It also has a scar on its body that has been bandaged up.
Ad blocker interference detected!
Wikia is a free-to-use site that makes money from advertising. We have a modified experience for viewers using ad blockers

Wikia is not accessible if you've made further modifications. Remove the custom ad blocker rule(s) and the page will load as expected.