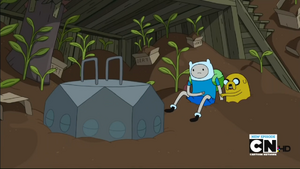 The Martian Transpoter is seen in "Sons of Mars." It was sent by Grob Gob Glob Grod for Magic Man to come back to Mars once he learned compassion and friendship. However, it did not work for him, as he did not learn compassion and friendship. It worked for Finn though, as he thought of Jake, who was presently on Mars as Magic Man. There is another on Mars, where Finn was transported to. There may be more than one on Mars.
Trivia
Technically, it could've worked for Magic Man if he thought about Glob Gob Grob Grod, who was on Mars. That is, if Magic Man considered Glob Gob Grob Grod a friend.
Ad blocker interference detected!
Wikia is a free-to-use site that makes money from advertising. We have a modified experience for viewers using ad blockers

Wikia is not accessible if you've made further modifications. Remove the custom ad blocker rule(s) and the page will load as expected.