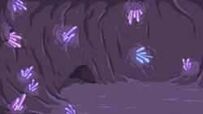 The 
Moldo's Secret Lair 
is the home of the 
Moldos
. The lair is hidden behind a bookshelf in the
Library
 and is ruled by Mildwin. The lair appeared in the episode "
Paper Pete
."
Appearance
Inside there are crystals of different colors on the walls. It seems to be underground, and when Finn is heard by the Moldos, they appear from out of the diamonds.
Gallery
Ad blocker interference detected!
Wikia is a free-to-use site that makes money from advertising. We have a modified experience for viewers using ad blockers

Wikia is not accessible if you've made further modifications. Remove the custom ad blocker rule(s) and the page will load as expected.