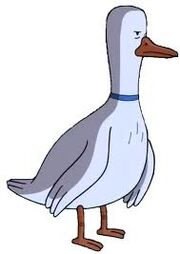 Mr. Goose is a goose that has a crush on Boobafina, and appeared in the episode "Storytelling." He apparently had wanted to date Boobafina for years, and Boobafina also likes Mr. Goose, but Finn made Boobafina and Mr. Fox, who has a crush on Boobafina, kiss, making Boobafina think that Mr. Goose won't go out with her. But at the end of the episode, Mr. Goose and Boobafina get together.
Ad blocker interference detected!
Wikia is a free-to-use site that makes money from advertising. We have a modified experience for viewers using ad blockers

Wikia is not accessible if you've made further modifications. Remove the custom ad blocker rule(s) and the page will load as expected.