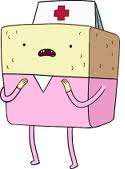 Nurse Pound-Cake is a character and Candy Person of Adventure Time. She first appeared in the episode "Mortal Recoil." She was seen coming out of a hallway pushing the cart holding Princess Bubblegum and taking her to the emergency room (ER).
Apearance
She is a cube-like Candy Person and has a flesh like color over her body. She wears a pink long-sleeve uniform with a white shirt underneath, and has a hat with a red cross on it.
Videos
Gallery
Ad blocker interference detected!
Wikia is a free-to-use site that makes money from advertising. We have a modified experience for viewers using ad blockers

Wikia is not accessible if you've made further modifications. Remove the custom ad blocker rule(s) and the page will load as expected.