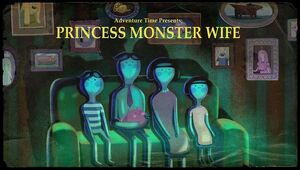 This is the episode. For the character, click here.
Princess Monster Wife is the 9th episode of Season 4 of Adventure Time. It first aired on May 28, 2012.
Synopsis
The Ice King steals body parts from all of the princesses in Ooo and makes his own princess. Meanwhile, Finn and Jake try to get the princesses' body parts back.
Trivia
Ice King states that Lumpy Space Princess and Ghost Princess are his least favorite princesses.
It has been shown that ice king's castle is bigger than it seems to be.
Gallery
Ad blocker interference detected!
Wikia is a free-to-use site that makes money from advertising. We have a modified experience for viewers using ad blockers

Wikia is not accessible if you've made further modifications. Remove the custom ad blocker rule(s) and the page will load as expected.