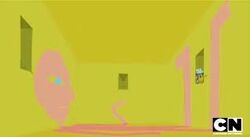 Prismo is a major character in the episodes "Finn The Human" and "Jake The Dog." He lives in a Time Room and grants wishes to all who enter the room. In "Jake The Dog," it is revealed that he is friends with Cosmic Owl. However, this argues the point that has 'A lot of nasty friends', as he stated in "Finn The Human."
Gallery
Ad blocker interference detected!
Wikia is a free-to-use site that makes money from advertising. We have a modified experience for viewers using ad blockers

Wikia is not accessible if you've made further modifications. Remove the custom ad blocker rule(s) and the page will load as expected.