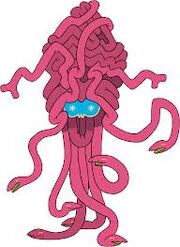 The Snake Armed Ruby Brain Beast is an antagonist that appeared in the episode "Tree Trunks." It was the protector of the Crystal Gem Apple. While Tree Trunks was seducing it, and the Finn killed it, by stabbing its magic weak spot (A large Ruby on its back side).
Gallery
Ad blocker interference detected!
Wikia is a free-to-use site that makes money from advertising. We have a modified experience for viewers using ad blockers

Wikia is not accessible if you've made further modifications. Remove the custom ad blocker rule(s) and the page will load as expected.