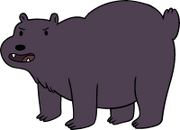 The Teenage Bear is a bear that first appears in the episode "Storytelling." He is seen next to a van. His mom slaps him in the face for misbehaving. He also wants to fight people.
Appearance
The bear is pretty large, he is a greyish brown color. He has small dark eyes and has fangs on his mouth.
Gallery
Ad blocker interference detected!
Wikia is a free-to-use site that makes money from advertising. We have a modified experience for viewers using ad blockers

Wikia is not accessible if you've made further modifications. Remove the custom ad blocker rule(s) and the page will load as expected.