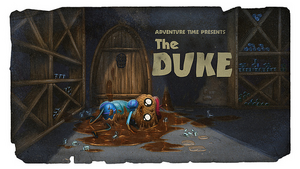 The Duke is the 19th episode of Adventure Time. It first aired on July 19, 2010.
Synopsis
While Finn and Jake smash some magical bottles, one happens to hit Princess Bubblegum, causing her skin to change in color from pink to green, while she lose her bubblegum hair. In which she blames the Duke of Nuts on her appearance but she only dislikes him for always eating all her royal pudding. Finn goes along with Princess Bubblegum because she said she would never forgive the person who did that to her. Now Finn must find him and tell the truth in order to make things right.
Plot
The episode starts with Finn and Jake throwing bottles with magic potions inside them in a ditch near the Candy Kingdom. They see Princess Bubblegum kick the Duke of Nuts out of the Kingdom, and the continue throwing bottles. Finn finds a boomerang shaped one and throws it. It goes to one of the walls of the ditch, but then turns around and smashes through a window of the Candy Kingdom. Princess Bubblegum is the heard yelling "Duke of Nuts!!!"
Trivia
This episode was originally titled "The Duke of Nuts."
Ad blocker interference detected!
Wikia is a free-to-use site that makes money from advertising. We have a modified experience for viewers using ad blockers

Wikia is not accessible if you've made further modifications. Remove the custom ad blocker rule(s) and the page will load as expected.