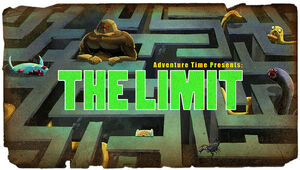 "The Limit" is the twenty-second episode in the second season of Adventure Time.
Synopsis
On a mission to save knights of Hot Dog Princess, Finn and Jake go inside a massive maze where wishes can be granted and where Jake's Stretchy Powers are pushed to their limits.
Trivia
This is the episode that revealed that Jake's Stretchy Powers aren't endless.
"The Limit" is also the name for a future season two episode of "The Amazing World of Gumball.
Gallery
Ad blocker interference detected!
Wikia is a free-to-use site that makes money from advertising. We have a modified experience for viewers using ad blockers

Wikia is not accessible if you've made further modifications. Remove the custom ad blocker rule(s) and the page will load as expected.