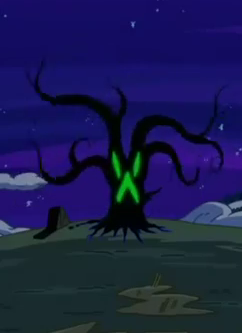 The
Tree of Blight
is an evil tree that appears in the episode "
Hug Wolf
." It spews out evil juice every one hundred years and was attacked by
Finn
and
Jake
. It was burned down by Jake, but in the explosion that followed, a piece of the Tree's flaming remains had hit the Alpha Hug Wolf and possibly left its evil mark/curse on her.
Apperance
The Tree is alive and has a dark color to it. Its branches resemble tenticles and its face is long and pointy with a bright green color in it. Its roots stick out on the ground.
Trivia
Blight is a word for sickness, often affecting plants and trees.
Ad blocker interference detected!
Wikia is a free-to-use site that makes money from advertising. We have a modified experience for viewers using ad blockers

Wikia is not accessible if you've made further modifications. Remove the custom ad blocker rule(s) and the page will load as expected.