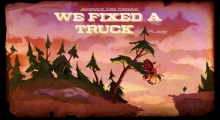 We Fixed A Truck is the 39th episode of Season 5. It is the 143rd episode of Adventure Time overall.
Synopsis
Finn and Jake invite over Banana Man to help fix a truck they found, which the latter tries to use to become good friends with his neighbors.
Major Charcters
Minor Characters
Princess Imposter
Female Banana Guard
Songs
Trivia
Gallery
Ad blocker interference detected!
Wikia is a free-to-use site that makes money from advertising. We have a modified experience for viewers using ad blockers

Wikia is not accessible if you've made further modifications. Remove the custom ad blocker rule(s) and the page will load as expected.