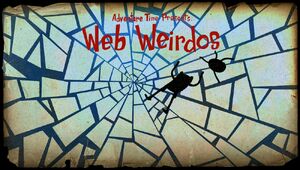 Web Weirdos
is the 3rd episode of Season 4 of
Adventure Time
. It first aired on April 16th, 2012.
Synopsis
When Finn and Jake are in the woods, they both get caught in a spider web. Now they must mend the relationship between two spiders.
Plot
Finn and Jake are doing stunts in a canyon-like thing, and then they see a spider web with bugs caught in it.
Gallery
Ad blocker interference detected!
Wikia is a free-to-use site that makes money from advertising. We have a modified experience for viewers using ad blockers

Wikia is not accessible if you've made further modifications. Remove the custom ad blocker rule(s) and the page will load as expected.