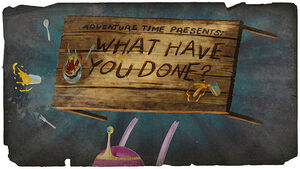 What Have You Done? is the 24th episode of Adventure Time. It first aired on September 13, 2010.
Synopsis
After Princess Bubblegum tell to Finn and Jake capture the Ice King, they are confused with why they have to capture him, but do it anyway.
Gallery
Ad blocker interference detected!
Wikia is a free-to-use site that makes money from advertising. We have a modified experience for viewers using ad blockers

Wikia is not accessible if you've made further modifications. Remove the custom ad blocker rule(s) and the page will load as expected.