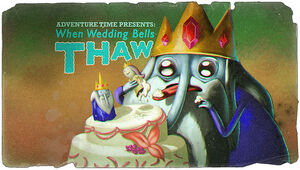 When Wedding Bells Thaw is the 17th episode in Season 1 of Adventure Time. It first aired on June 28th, 2010.
Synopsis
Ice King has found a bride who wants to marry him, but he needs help from Finn and Jake to figure out if he really wants to be married and what the true meaning of marriage is.
Ad blocker interference detected!
Wikia is a free-to-use site that makes money from advertising. We have a modified experience for viewers using ad blockers

Wikia is not accessible if you've made further modifications. Remove the custom ad blocker rule(s) and the page will load as expected.