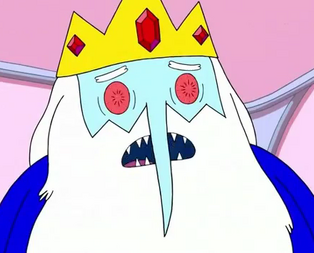 Wizard Eyes is one of the Ice King's powers. It is first shown in the episode "Mortal Recoil." This ability allows Ice King to see different planes of existence, such as odd-looking creatures and phantoms native to a dimension known as the "Spirit World." This ability makes it hard for him to distinguish the things that normal people see and the strange things only his eyes see. Though, Ice King refers this ability as his "Wizard Eyes," it is unknown if any other wizards possess this similar ability. In the episode "Beyond This Earthly Realm," Ice King was able to see Finn in the Spirit World and agreed to aid Finn in his escape from the dimension, provided that Finn places all the spirits in a spirit hole so Ice King would not have to see them anymore.
Gallery
Ad blocker interference detected!
Wikia is a free-to-use site that makes money from advertising. We have a modified experience for viewers using ad blockers

Wikia is not accessible if you've made further modifications. Remove the custom ad blocker rule(s) and the page will load as expected.